We have a first birthday party to attend soon and I have to find the perfect gift for our friend's child.  I love giving a great gift probably more than I love getting gifts — Christmas and birthdays are a pretty big deal in our house!  There is just something fun about shopping for something that you know the person will love.
1st birthday presents are always a bit tricky because you don't know what the child already has.  I always ask the parent if there is something in particular that is needed.  If all else fails, I just include a gift receipt.  Sometimes the wrapping paper and empty boxes are the most fun!
Here are some of the favorite toys that my one-year-olds play with.
I really believe that every child should have a collection of great books. This book is a great one to start your baby's collection with the beloved author Dr. Seuss. It is baby-friendly with things to touch, see, move and smell.
This toy is a hit with one-year-olds, and continues to be popular with preschoolers. Babies sit in it and pretend to "drive." It plays songs, says phrases, and has lights.

A push toy is a must for any new walker.  Even now that my girls are experienced walkers, jumpers, and climbers they still play with this toy.  They love all the buttons and music.  This toy gets played with daily at our house.

I love the versatility of the VTech Sit-to-Stand Alphabet Train. It goes from floor play to push-toy to ride-on. My girls love playing with blocks and little piano keys and this toy has both. This will be a favorite in your house.

My girls love playing with the activity cubes at the library so I decided to get one for home. Each side has a different activity and it keeps them entertained. I love that the top piece folds into the cube for storage and it feels like a quality toy.

We had this swing before the first birthday and it continues to be a hit well into 18 months.  It's a great way to kill some time when you don't want to head to the park but still want to get outside.  We just secured it to a beam on our porch but it would work on a tree too.

I love this toy.  We have two of them!  Our girls keep it in their cribs and play with them before bed.  It plugs into your computer and you can download your child's favorite songs, color, lullabies, food and name.  I can see this continuing to be a favorite for a long time.

We first discovered how much fun a tunnel could be at our baby gym class.  Olivia was a bit nervous crawling through the tunnel in public so I decided to buy
one for the house and it immediately became a big hit.  Both girls, along with the dog and cat, hang out in the tent and crawl through the tunnel (not usually at the same time).   This is a perfect toy for pre-walkers and more active toddlers.  It also folds down for easy storage when you don't want your living room to look like a camp site.

My girls are really into music but those music classes can be so expensive, especially when you're paying for twins!  This was a nice set that my girls could hit, shake, and walk around making music.

My girls loved the ball pit at our baby gym so much that I decided to buy some for home.  I just dump them into their crib or a pack and play and we have our own ball pit at home.

This is one of those toys that surprised me by how much fun my girls would have with it.  It comes with several coins in different sizes and colors.  When the child drops a coin into the bank the pig counts or sings.  My girls LOVE this toy, and I love that it will keep them independently busy for a few minutes at a time.

I read this book to my girls on their first birthday and hope to make it a yearly tradition. It's all about the world changing and celebrating "on the night you were born." The story is filled with beautiful quotes. We even printed one on the back of our birth announcement. It's also my go-to new baby gift.
This book is more for the parents than the birthday boy or girl.  It's the sweetest story about all of the things that parents would  miss if their child never grew up (learning to ride a bike, read a book, swinging from a tree).  It shows parents that they still have so much to look forward to even though their baby is getting older.  This book sure made me cry — but in a good way!
This toy might look like just an ordinary purple dinosaur but I credit it for teaching my girls the whole alphabet before the age of two. I really love LeapFrog toys. They can be programmed online to be more personalized to your child. This dinosaur can be programmed to say the first letter of your child's name.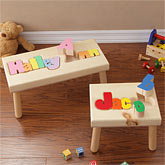 I love giving something personalized and unique.  It shows that you put in a little extra time when picking out the perfect gift.  Plus, there is a good chance that no one else will have your gift.  One of my favorite websites for personalized gifts is personalizationmall.com.  I've ordered several things from them and they have great customer service.  If you sign up for their mailing lists they send regular coupons for a percentage off your order.
What gifts would you include on this list?  What gets played with daily in your house?
Posted in

Children's Products, Kids, Mom Stuff.
Tagged

1st birthday, birthday, books, first birthday, If I Could Keep You Little, On the Night You Were Born, party, push-toy, ride-on toy, Toys.